THE EASY 2 HOUR FRAME UP!!
Call 0800 379 247 to order.
With STARPLATES you can build a professional backyard project you will be proud of, while adding $$$ to the value of your property. Each set is only $135.00 including GST and Delivery to anywhere in New Zealand
What are STARPLATES?
STARPLATES are 16 gauge galvanised steel connection plates with all holes and ten channels engineered to perfectly locate, hold and strengthen timber to timber joints with a simple carriage bolt.
What size framework do STARPLATES make?
Almost any size you want. Use short timber struts to make small buildings, longer struts to make larger ones. One set of STARPLATES does all sizes. (See table below).
Is it difficult to build with STARPLATES?
Not at all: To build the frame all you do is drill holes in timber struts and bolt to the STARPLATES. Your STARPLATES are pre-engineered to give you a foolproof, perfectly aligned building. MUCH simpler than conventional framing. The only tools required are a saw, drill and a spanner.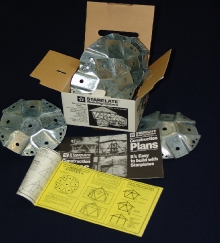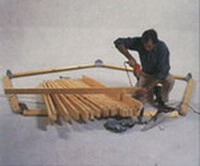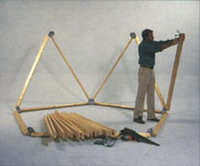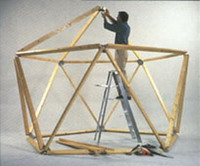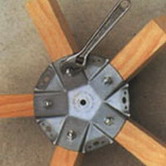 How can I finish it off?
Any way you want to. Some STARPLATE buildings are elaborate with shingle roofs, weatherboard sides, doors and windows. Others are merely covered with plastic for a greenhouse or trellis surrounds for a gazebo.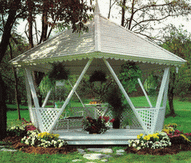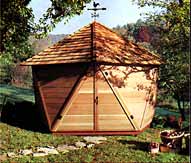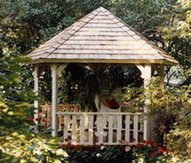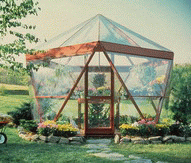 How strong is the structure?
VERY! The design is based on the principals of the geodesic dome, which is the strongest form that a framework can take. STARPLATE constructions in Florida have achieved official hurricane-resistance rating. The central apex has been known to support a weight of up to 4 tonnes!
 0800 379 247 (New Zealand only)
+64-3-381-5595 (International Orders)
Where can I get STARPLATES?
We can supply and deliver STARPLATES anywhere in Australia, New Zealand and Oceania. Simply call one of the numbers below and place your order.
What do I get?
Each STARPLATE kit contains 11 STARPLATES and instructions for the construction of the basic framework. Also included is a 28 page booklet with fully illustrated plans which show you how to add walls, roof, overhanging eaves and doors. They illustrate how to wrap plastic or screen around the framework, how to cut plywood with minimum waste, how to build a variety of doors (including a wide access square door), how to construct a foundation, how to buy materials, how to cut supports using the full-size removable template page.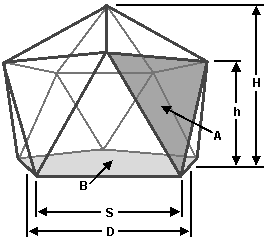 The structure consists of 25 struts of equal length. The length you choose to cut your struts will determine the final size of the structure. (Struts of over 9ft (3m) are not recommended)
Struts can be of any dressed 2′ timber: 2'x2′, 3'x2′, 4'x2′ or their metric equivalents.
The table below gives approximate imperial measurements:







Avon Electric Ltd
25 Taurus Place, Bromley
P.O Box 19748
Christchurch, NZ
Email: info@avonelectric.co.nz
Free Call: 0800 379 247
Ph: (03) 381 5595
Fx: (03) 381 5596