Avon import & manufacture a range of fan heaters for various applications and environmental conditions:
Frico Fan Heaters
Frico manufacture fan heaters for various applications, the models shown below are common models we offer, for more options, contact us or see www.frico.net.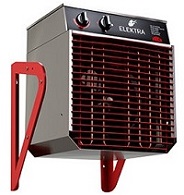 Elektra
Hard wearing fan heaters for demanding environments, with models suitable for temperatures up to 70°C.
3-9kW
Download Brochure
Available in many capacity options from 1kW to 9kW For 1, 2 or 3 phase supply.  Can be modified to suit requirements.
Controls
» Fusible links on each element
» Manual reset over temp. thermostat
» Thermostat
Control Options
» Air pressure switch
» Fan run-on facility
» Multi-stage thermostat
» 2 Speed fan
Optional
» Baked enamel powder finish
» Air filtration
» Speed control
Construction
» Fan case: spun aluminium
» Element housing: fabricated galvanised iron
» Finish: self finish is standard
Avon Electric Ltd
25 Taurus Place, Bromley
P.O Box 19748
Christchurch, NZ
Email: info@avonelectric.co.nz
Free Call: 0800 379 247
Ph: (03) 381 5595
Fx: (03) 381 5596