HEATEX "AIR TO AIR" HEAT EXCHANGERS
"The Untapped Energy Source"
Heatex plate heat exchangers are recuperative cross-flow heat exchangers built from aluminium or stainless steel plates. Two neighbouring plates form a channel either for supply or exhaust air or gas. The supply air passes on one side of the plate and the exhaust air on the other side.
The heat is transferred through the plate from the warmer air stream to the colder air stream.
How It Works
A series of separate "Air Ducts" are arranged in an alternating pattern so that two air streams can pass without mixing.
Why It Works
Exhaust & Supply air streams try to equalise to a common temperature, as they pass through the "core".
The greater the temperature difference between the two air streams, the greater the efficiency of the heat exchanger.
Whenever cold air is heated, its capacity to absorb moisture is increased. Warm air can absorb more moisture than cold air, and is thus dehumidified.
Energy is required for the first "Heat up", after that, only minimal "Top up" heat is required, and existing energy, is continuously "recycled" reducing ventilation or process energy costs by 50% to 98%. HEATEX works with hot or cold energy.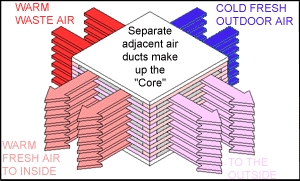 What Are Its Uses?
Energy recovered from any "Exhaust" air stream is returned to the process or building, thus reducing energy demand.
Applications include:
Ventilation of;

Hotels
Clubs
Homes
Any high occupancy enclosed space eg… School Classrooms
Swimming Pools (to control condensation, odours & corrosion)

Commercial Processes;

Clothes dryers,
Baking Ovens
Food Dryers
Kilns
Boiler flues

Any other industrial process up to 800oC
Heatex recovers Hot or Cold thermal energy, from any stale, foul, or polluted air.
Heatex can condense gasses or vapours from gas or air (ie… fumigation, or solvent gasses).
Heatex reduces the cost of "Catalytic Cleaning", to meet industrial odour and pollution emission standards. (Enquire about our new "Low temperature" Catalytic Cleaning solution).
Indirect Evaporative cooling models (EVCO) cool air without refrigeration or increasing humidity & can improve the performance of air conditioning plants, by over 50%, even in climates with high humidity.
What Sizes are Available?
There is no size limit. From a small room to a high rise or major industrial application. Heatex have installed many, with "cores" over 60 metres wide.
How Efficient Are They?
Heatex produce standard models that can recover up to 98% of the energy from any air stream. up to 800°C.
Temperature Range
Two models available
1) up to 230°C
2) up to 800°C
Materials are Aluminium and all grades of Stainless Steel
How To Get An Appraisal For Your Application
Email or phone Avon Electric Ltd with the following information …
Describe your energy use process.
Hours of use. Payback depends on hours of use. Heat Exchangers may not be a viable investment, for example in a church hall, because of insufficient hours of use. However a hotel bar or industrial process dryer can achieve 100% payback in 6 to 36 months.
As much detail as possible about your process temperatures and exhaust air flow. For an accurate appraisal we need to know…. Air flow, (volume), temperatures and humidity for Exhaust and Supply air flows (we can arrange measurements if required).
We will provide a detailed computer generated data page on what the Heat Exchanger will do, in terms of kilowatts of energy recovered, and a budget quotation.
HEAT RECOVERY EXAMPLES & OPTIONS
Optional Air Flow/Spigot Arrangements for Heat Exchanger Cabinet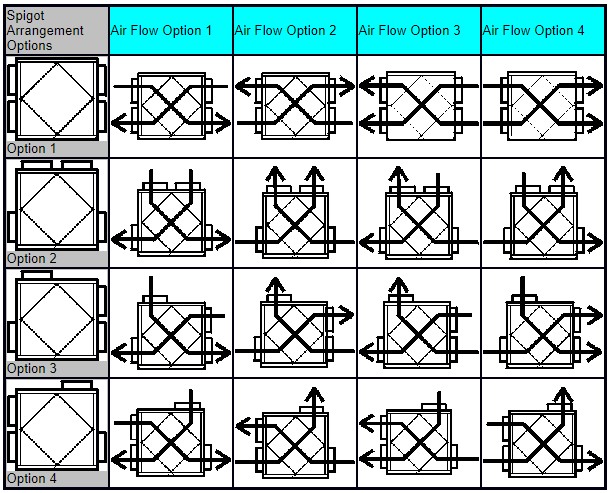 Avon Electric Ltd
25 Taurus Place, Bromley
P.O Box 19748
Christchurch, NZ
Email: info@avonelectric.co.nz
Free Call: 0800 379 247
Ph: (03) 381 5595
Fx: (03) 381 5596