Avon ELECTRODUCT Element Banks are the basis of all Avon Electric Heaters. They incorporate "open wound" spiral elements supported by a unique (design registered) method that does not rely on element tension for integrity, and are ultra reliable.
ELECTRODUCT open wound elements are manufactured of various metals to suit the air flow and temperature, all open wound elements create instant heat, and feature a fast cool down.
Typical Applications
HVAC

 

duct heaters
LOAD BANKS

 

for Generators
PROCESS HEATERS

 

— Dryers, plastics, ovens.
FAN HEATERS
AIR HANDLERS
Reliability
ELECTRODUCT elements are free to move in the support, and so problems that are often associated with open wound elements are not applicable to Avon ELECTRODUCT elements, which are robust and ultra reliable.
Safety
FAIL SAFE operation is ensured because ELECTRODUCT elements feature a "fusible link" (design registered) on each and every element.  A contactor, controlled by an over-temperature thermostat, will comply with safety Standards if it works, but if the contactor moving contacts jam, or weld shut, a fire or burn up is inevitable, then the system will not comply with safety standards.
  The "fusible link" on each element of an Avon ELECTRODUCT, is the safety control of last resort, and ensures safety compliance for the working life of the ELECTRODUCT.
Capacity Options
Element spirals can be wound to order — any capacity from 100W upwards.  The largest ELECTRODUCT installation by Avon Electric Ltd to date is 7200kW
Temperature Options
ELECTRODUCT element banks are commonly made for HVAC temperatures, but they are also suitable for process air up to 600°C.
Forced Air Process heater units are manufactured as a "Kitset", (see Examples on the left), or to any other format specified.
Construction
The element spirals are supported on fabricated sheet metal frames – galvanised, aluminium, stainless steel 304 — 316 etc. Frames can be manufactured to suit any type of air flow, and for indoor or outdoor installation i.e:
Rectangular ducts, round ducts, heat pump "tray type" or radial for installation hard against an axial fan. There is no limitation to shape dimension or capacity.
Controls
We manufacture to any specification. Some examples are:
To bare terminals & safeties only — this format includes fusible links on each element, over-temperature thermostat. – Options are Air Pressure Switch and "Fan Run On " thermostat.
Fully pre-wired including isolator — These models have a larger terminal compartment, and all controls as may be specified eg …. fusible links, manual reset over-temps, fan "run on" thermostat*, air pressure switch, contactors, fused control circuit, multi stage thermostat etc.
*We use a "run on" thermostat, instead of a timer, because the thermostat has been known to save a fire.  In unusual fault conditions where it switches on the fan causing uncontrolled heating, but at safe temperatures so that a fire or burn-up does not result — a timer will not switch on a fan where a fault may cause an unusual heat condition, resulting in a fire or burn-up.
Current valve or electronic control relays (specify) are available, and forced air cooling (with air filtration) to dissipate heat from mutual induction of the components within the terminal compartment is also available (as may be necessary).
For process heaters, a Remote Control Panel is also available.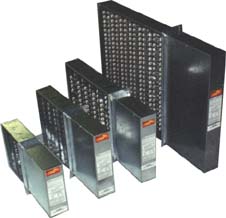 Typical Electroduct Types
The most popular types of ELECTRODUCT Avon manufactures are our Drawer Type and Round Type, these are suitable for most standard HVAC applications. We can manufacture other types to suit specific applications / requirements, such as Tray Type, Saddle Type and Radial Type (see examples below). Contact us to see how we can assist you.
 Rectangular Drawer Types
– Designed to slide in to an exisiting rectangular insulated duct section.
– When ordering allow for duct insulation.
– Manufactured to suit any duct dimensions & kW Capacity.
– Specify top, bottom or side entry (into the duct).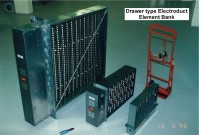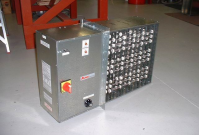 Round Electroducts
– Manufactured complete with ceramic fibre insulation to exceed the requirements of NZS3012.
– Can be manufactured to suit round ducts 150mm and above.
– Stainless Steel or Galvanised construction.
– Specify for Horizontal or Vertical installation.
– Can be manufactured for Indoors or Outdoors Installation.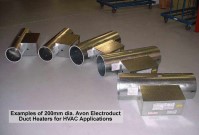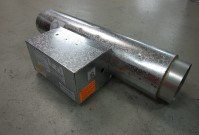 Radial (Axial) Type Electroducts
These can be installed directly against an axial fan. Designed so that the maximum air flow is over the elements -there are no elements in the centre of the duct section, where there is minimal air flow. For this option, external insulation (as required by NZS3012), has to be considered by the specifier.

Saddle & Tray Type Electroducts
Saddle types – For drawer type installation in a round duct.
Tray types – Often specified for installation within a heat pump.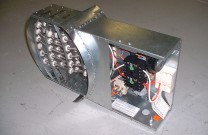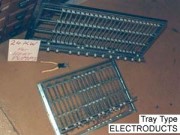 Electroduct Process Heater Examples
Sketches under this heading illustrate some examples of existing ELECTRODUCT installations in process ovens, for baking, curing, drying etc.
They are meant as examples only. All specifications such as heating capacity, fan type and dimensions can be customised to suit.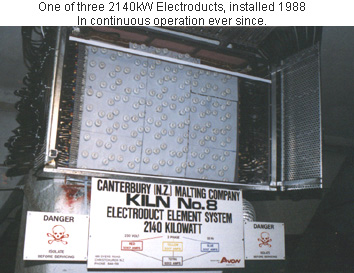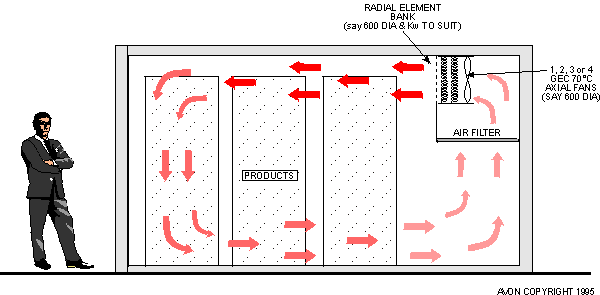 Avon Electric Ltd
25 Taurus Place, Bromley
P.O Box 19748
Christchurch, NZ
Email: info@avonelectric.co.nz
Free Call: 0800 379 247
Ph: (03) 381 5595
Fx: (03) 381 5596