HEATING & VENTILATING LARGE SPACES
Heating & Ventilation Solutions for Large Buildings
(Halls, Gymnasia, Factories, Warehouses etc)
Ineffective Systems
Many buildings today have 'ventilation' systems consisting only of exhaust fans, either roof mounted, through the wall, or a combination of the two. These are not efficient, controlled ventilation systems as they make no provision for the introduction of fresh air, and may not comply with the 1992 Building Code or NZS4303 standard "Ventilation for Acceptable Indoor Air Quality".
Even with multiple exhaust fans 'dead spots' can still be a problem
Inadequate provision for "make-up" air – most unsatisfactory or even unhygienic sources:

Unsatisfactory Supply Source
Effective Ventilation

The system illustrated above will effectively ventilate the space, providing acceptable Indoor Air Quality and helping to control condensation, but the infra-red heating system cannot maintain comfort temperatures and the ventilated space will be cold.
Direct hot air is the best option for heating spaces with high occupancy, eg churches, school classrooms, clubs & bars.

Installing 'Tempering Elements' controls the temperature of incoming fresh air. Avon ELECTRODUCT elements automatically controlled by a 3 stage thermostat can be retrofitted into an existing system or designed into a new one. Avon SUPERFAN Heaters can replace the supply fan and tempering elements (see below).
Heat Recovery Ventilation for Energy Efficiency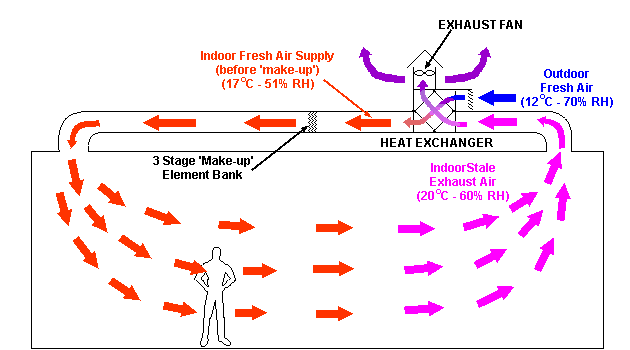 Heat energy (which is normally wasted) from the Exhaust air stream, is transferred and re-cycled to the incoming fresh air.
Energy savings of 50 – 70% are easily achieved.
Note: preheated supply air is also dehumidified by the heat exchange process. In summer indirect evaporative cooling provides cooling without dehumidification.
Avon Electric Ltd is the sole NZ agent for HEATEX Air to Air Heat Exchangers, Sweden.
Heating and Ventilation Solutions with an Avon SUPERFAN Heater.
A Simple Solution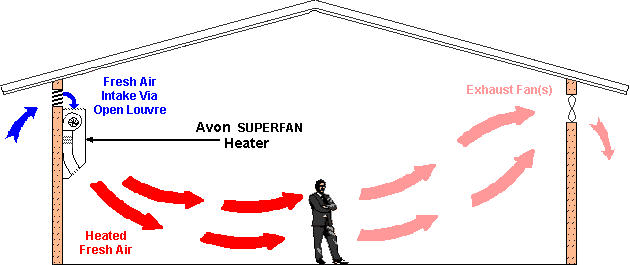 This method will effectively heat, ventilate and control condensation, but wastes energy as it is poorly controlled ventilation.
Simple, Effective, Heating and Ventilation.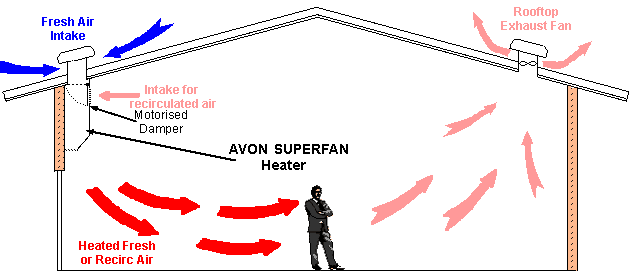 Note fresh air roof intake, also available with wall intake and weatherproof cowl.
The motorised damper to provides two modes of operation – 100% fresh air and recirculated air.
Use RECIRC for pre-heating and low occupancy periods and FRESH for periods of high occupancy.
Matching the Exhaust Fan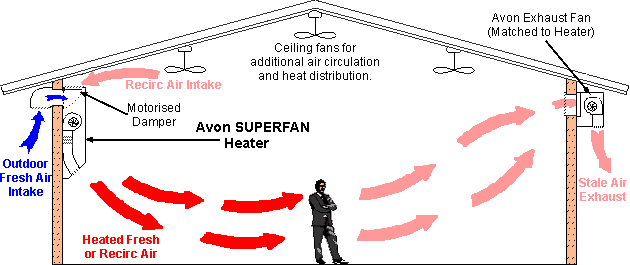 Illustration shows wall intake with cowl, roof intake also available.
Avon also manufacture exhaust air handlers with identical capacities to the SUPERFAN heater. They are ultra-quiet and wiring circuitry is compatible with the SUPERFAN heater, so a single speed control switch can control both heater (Supply air) and Exhaust air handler.
CASE STUDIES
Proposed Heating and Ventilation Layout for Morrinsville Events Centre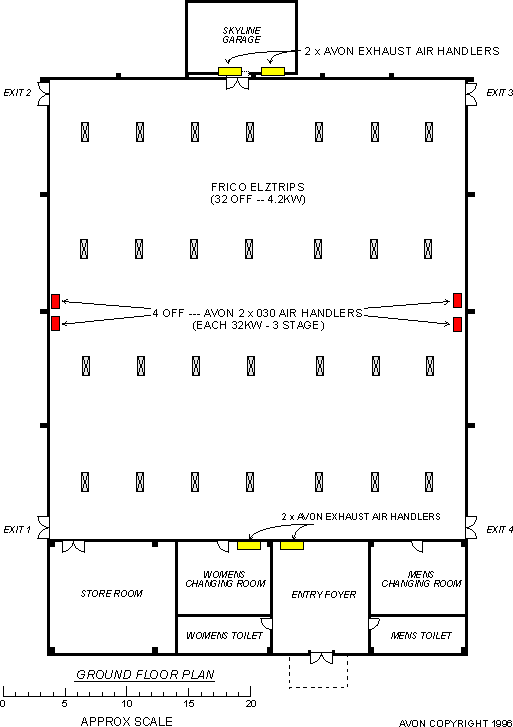 Initial heating and ventilation proposal (above), provided for a series of infra-red heaters to be installed. However the Avon Air Handlers proved to be adequate, making the infra-red heaters unnecessary.
The Events Centre is designed for multi-activities. The heating and ventilation system is of the ultra-quiet type and avoids strong air currents which could affect games such as badminton.
User friendly controls compliment the system.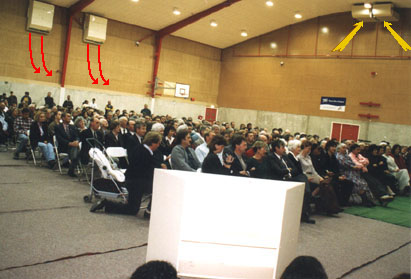 Exhaust Air Handlers (top right) are matched to the Supply Air Handlers (top left).
Feature Article from:
PIAKO POST Wednesday June 25 1997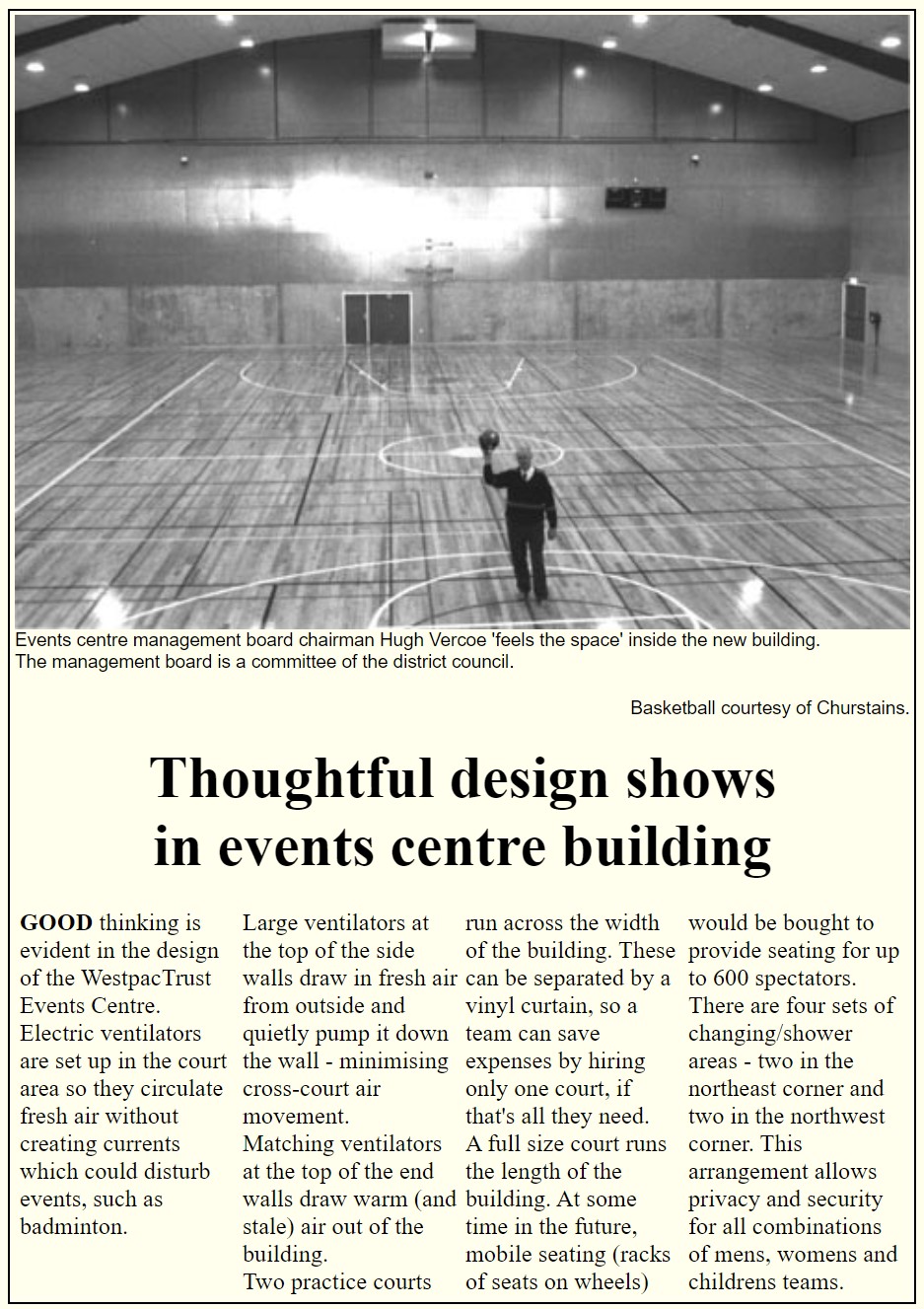 Avon Electric Ltd
25 Taurus Place, Bromley
P.O Box 19748
Christchurch, NZ
Email: info@avonelectric.co.nz
Free Call: 0800 379 247
Ph: (03) 381 5595
Fx: (03) 381 5596